Every house has a story. It doesn't matter whether the property is a stately manor filled with history or a new cottage loaded with upgrades and modern conveniences. Full disclosure: The story on 112 Stedman Street is personal. Writing about my home was more than therapeutic. Intuitively, I knew sharing the story would be helpful in moving on – and in securing the next owners to care for "her." The buyers, a couple in their 30s, said that the story was a factor in their decision. I've long been honored to work with real estate agents to write their bios and would be happy to take it one step further – to tell the stories of properties that have been listed for sale.
112 Stedman Street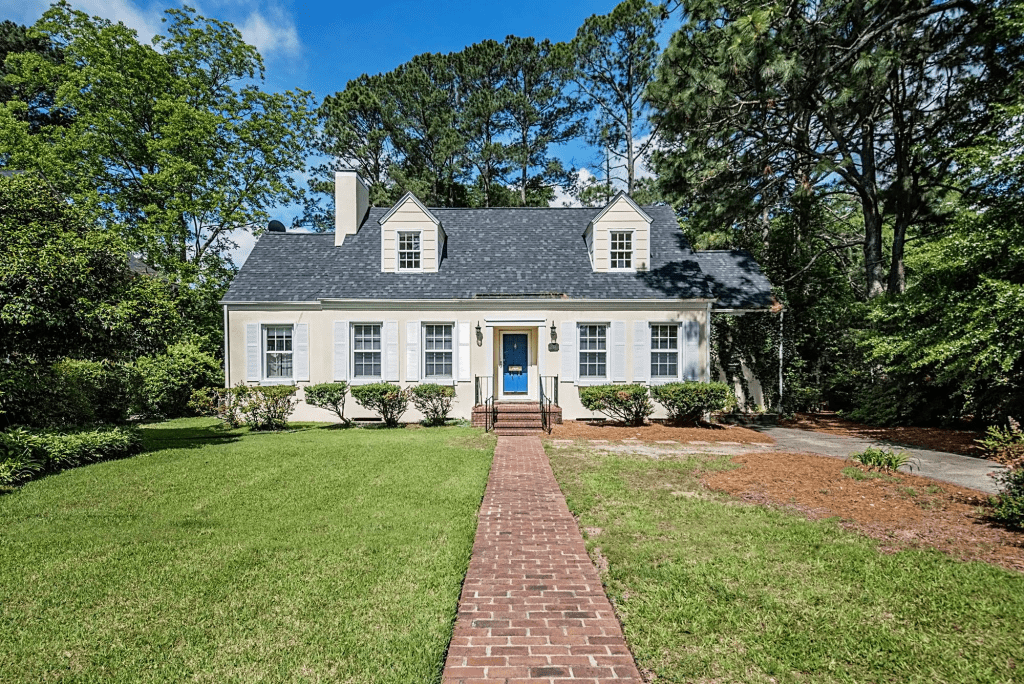 This is the story of a house. It's a sturdy house filled with character, and, what we like to point out in the South, "loads of charm." But 112 Stedman Street is so much more. When we first discovered her, she was painted the most horrid shade of pinkish brown. She had black shutters and a front door in the same green as mint-chocolate chip ice cream. But don't judge a book (or house) by its cover, right? As one of the few stucco homes in the neighborhood (and, coming from Florida, we adore stucco), … well, she called our names.
It was a cold, rainy night in December 2003. We felt like two mischievous kids upon finding an unlocked door. Should we? Oh, yes. Sometimes we know immediately. Good bones. Triple archways. Into the dining room, the living room, the sunroom. Plant yourself in just the right spot, and capture all three in a photograph, if only in our minds. Built-in shelves to each side of the front door, too. Perfect for vintage treasures. More built-in shelves in the living room and sunroom, for family pictures, books and life's mementoes.
We'd return the next day — to see if the magic was still there. Sure enough. Light streaming in, creating a sense of peace and calm. We ventured to the second floor — and stopped to look out the window at the top. "It's a sign!" we declared in unison, looking each other in the eyes and then back out the window again. The neighbor's yellow Lab was having some mischief of her own, and we believed she'd be the perfect playmate for our yellow Lab.
It didn't matter that all the walls were painted clinical white and that the original oak floors needed to be refinished. Didn't matter that the owner's three kids had used markers and crayons to create art in one of the "secret" rooms upstairs. And it didn't matter that the yard was a jungle, too. We had found our gem.
The process began. The real estate agent, an iconic figure named Bobby McCoy, was our guide for our new-old home in Historic Haymount.
I'll always remember the day the home inspector arrived. He meticulously scoured every nook and cranny, and we really didn't know what he was going to say after emerging from the basement. "Well, I'll tell you one thing," he began, in a bellowing tone. "If there's ever a national emergency, and I've got to evacuate my family, I know where I'm going to bring them! An earthquake wouldn't take down this house." (After a little research, we learned that it was built in 1940 by a gentleman who owned the masonry company in downtown Fayetteville.)
We closed the deal but didn't move into our new-old home right away.
Rather, we spent the next month with a paint crew who would bring a warm, toasty finish to most of the inside, soothing celadon in an upstairs library, terra cotta in the dining room, and sapphire blue in the kitchen. As for the latter, maybe not everyone's cup of tea, but we liked it. And pristine white trim throughout, which is always good.
The exterior was painted a sunny yellow, and window boxes were built to hold my favorite red, pink and white geraniums. Truckloads of yard waste were hauled away.
The crew would also bring the wood floors to shiny life. My husband, Don — who found the house with me, but still wasn't 100 percent thrilled about moving from Sarasota to my hometown — got into the act, too. He located a great, local lighting company and went shopping for the outdoor fixtures. His pride and joy were choosing a Tiffany-esque chandelier for the dining room. He kept thinking of ways to make the spaces more architecturally interesting (a family trait) and added pretty ceiling plates with just enough ornate detail, in the dining and living rooms. He also insisted on replacing the wood-burning fireplace with a gas model, which would keep us warm on cold nights.
He closed in the narrow garage, added stucco to the outer wall and a lion fountain. We figured that was appropriate, given both of us were kind of fearless.
Don also discovered a nearby diner, where he'd go for breakfast. "I've given this town a new name!" he happily announced one evening. "It's Shoogah-ville!"
I looked clueless, in an inimitable way that wives have perfected. He smiled broadly. "Because every time the waitress comes up to the table to refill my coffee, she says, 'Want some more, Shoogah?'"
It just goes to show that a home extends beyond its walls. Our neighbors have always been the best. People who don't get into your business, but keep an eye out, because that's just who they are. Kind.
Cacky, the yellow Lab next-door, did became best friends with our yellow Lab, Whiskey, and later, after Whiskey's passing, with the rescue, Larry The Lab. Even Kristy, our crazy funny Jack Russell terrier, joined in the shenanigans before she passed on at nearly 112 in dog years. Remember that celadon library I mentioned earlier? That became the apartment of Lulu, a no-tail "puddy" cat who lived four years to the day that she found me in Florida.
Show me a home with fur kids — the previously neglected, abused, unwanted — and I'll show you a home filled with love.
Love gets us through when life takes its toll, that's for sure. As Don struggled with failing health, the home became a place where he could sit in his easy chair, read, pray and reflect on life.
Some years ago, after he survived a stay in the ICU with heart and kidney failure, he returned home and knew what he had to do. He made art. On the garage room wall. Even though he hadn't picked up a paint brush in two decades or more, he spent a few hours meticulously drawing an ink masterpiece, using the image on a church program as his guide. The depiction is realistic and pure of St. John's Episcopal Church.
Don credited his miracle to God and the prayers of the priests and people of the church. We especially loved showing the art to visitors from St. John's, who never wavered in their kindness, even after Don went into a nursing home in October 2014. A year later, he would go on to his heavenly home, and, yes, his art still lives on at 112 Stedman Street.
It's hard to separate home from family. One of my earliest memories there was hosting a surprise birthday party for my Mom's 78th. Family arrived, and the aroma of homemade lasagna filled the air. I hadn't even hung pictures yet but was so happy to be home. I remember my Mom effortlessly climbing the stairs to check out the second floor. She was so robust and healthy. That image of her is not just one of my favorite memories of life on Stedman Street, but one of my favorite memories ever.
My current boss, who came to Fayetteville in the '80s as a young actress, once told me that she'd been to a few parties in my house. Two of the previous owners were the Cohens, who owned a dinner theater in town. I can close my eyes and hear and see the singing and dancing. Merriment magnified. "The Happy House," I would now nickname her.
But, as Ella Fitzgerald sang, "Into each life some rain must fall." And hail. The golf ball-size variety. Two years in a row, on July 1st.
The first time the freaky storms hit, we were bringing out cupcakes for a child's birthday party. Our attentions soon turned from lit candies to the pounding happening outside. Well, thanks to homeowner's insurance, we got a new shingled roof out of it (just as many in the 'Ville). We weren't so lucky the following year. This time, the damage was primarily to the flat rubber roof that runs along the second floor. Rain made its way down to the aptly named mudroom and half-bath, and we lost an addition that Don had built, which my Mom dubbed the "Canine Castle."
The insurance adjuster and I cried together as she delivered the bad news. Because of a loophole in the policy, the damage was not covered. It took a while, but that rear portion of the house was rebuilt. Some things make us stronger.
As for this story, I guess I figure, why not be transparent? I've tried to sell the house before, but it never happened. I was still holding on. I wasn't ready to let go of the home where I've lived the longest.
This time has been an adventure. Lots of showings, and I was hopeful that one young family would choose her, instead of a house down the street. Sigh. I envision kids growing up in The Happy House.
Some of the feedback leads me to believe that people are watching too much of HGTV's Chip and Joanna Gaines — after the "Fixer Upper" has been fixed up.
I always wanted to put up a white picket fence out front — and an arbor with climbing red roses. Wanted to do so much. But, as we all know, it takes time and money. Over the years, the practical and essential have taken precedence over aesthetics. Like a new HVAC, new flooring in the kitchen, mudroom and half-bath; new washer and dryer …
So here we are. Full circle. The new owners will likely want to paint the interior and possibly refinish the floors, just like we did. A bathtub needs to be re-glazed. Some new fixtures, too. The yard's in good shape — but sod would be nice out back. There's room to enlarge the master suite. Cosmetics are desired. But her good bones are still intact.
I always enjoyed the seasons on Stedman Street. Spring, with its profusion of azalea and dogwood blooms; Summer, and the smell of freshly mowed grass; Fall, the splendor of red, orange and golden leaves; and Winter, with the beauty of naked trees decorated with occasional icicles or fresh snow.
I'm in a different season of my life now. A shedding time. Some weeks ago, I had an estate sale. Life isn't so much about the things anymore, but experiences. I feel such a sense of relief. Letting go.
I'm building a new life with the people I love and Harper Lee, a black Lab mix rescue, and her new critter friends.
The past 14-plus years have taught me that sometimes a house is more than a house.
She's a place of potential.
She's a place of refuge.
She's a place for making memories.
And, perhaps, most important, she's a place that teaches us — if we remain hopeful and open-minded — we can indeed begin again.