A Faithful Servant Who Heeded The Call …
And Seized Life With A Healthy Dose of Humor
Born: November 3, 1932
Entered his Heavenly Home: July 22, 2019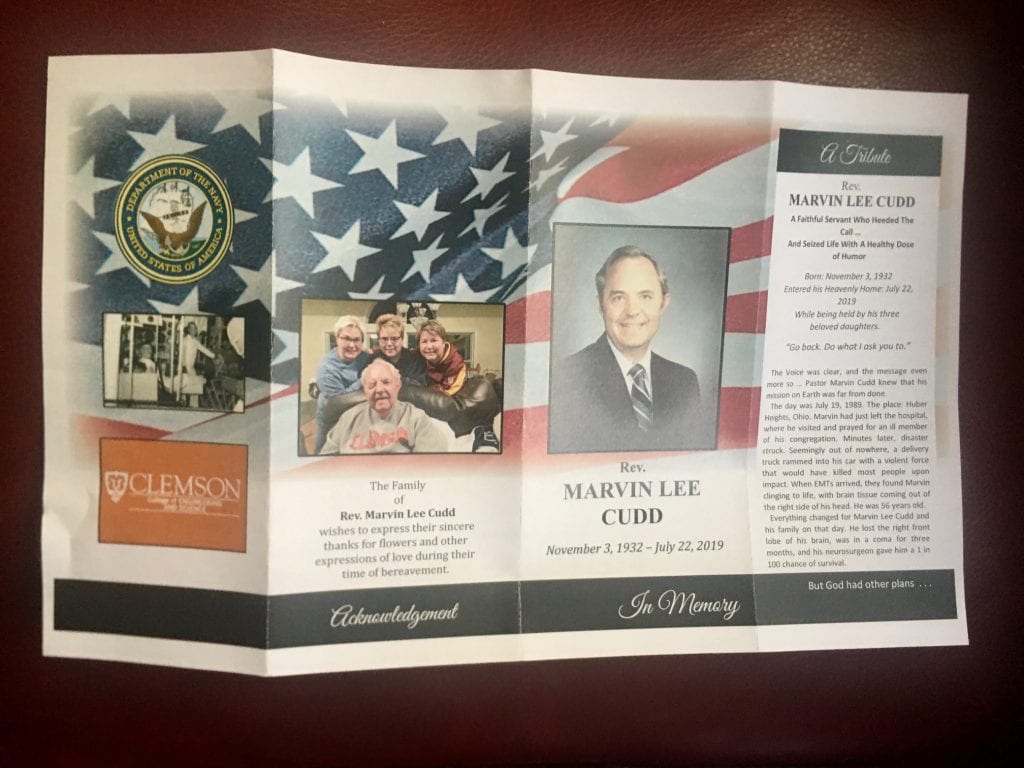 "Go back. Do what I ask you to."
The Voice was clear, and the message even more so … Pastor Marvin Cudd knew that his mission on Earth was far from done.
The day was July 19, 1989. The place: Huber Heights, Ohio. Marvin had just left the hospital, where he visited and prayed for an ill member of his congregation. Minutes later, disaster struck. Seemingly out of nowhere, a delivery truck rammed into his car with a violent force that would have killed most people upon impact. When EMTs arrived, they found Marvin clinging to life, with brain tissue coming out of the right side of his head. He was 56 years old.
Everything changed for Marvin Lee Cudd and his family on that day. He lost the right front lobe of his brain, was in a coma for three months, and his neurosurgeon gave him a 1 in 100 chance of survival.
But God had other plans.
In the first of a series of interviews in summer 2018, nearly 29 years to that fateful day, Marvin shared his life's journey. The unshakeable minister says he never doubted that God spoke to him after the accident, just as He had when Marvin was called from a lucrative corporate job into the ministry years before.
Marvin, a fearless Navy veteran, says he was blessed with a loving wife, Faye, and their three daughters, Mary Lee, Linda and Shannon. Faith. Family. They sustain us in the toughest times. And remind us of what matters most, through the tears and laughter. Marvin Lee Cudd is proof.
As Marvin joyfully spoke from his wheelchair on the patio of his daughter Shannon's home, the sun cast a beautiful glow and, occasionally, a gentle breeze seemed to arrive on cue – along with the sound of church bells from a distance.
Through months of rehabilitation, Marvin recalled the accident and how he received love and support from the folks at Huber Heights First Baptist Church, where he had ministered since 1985. Prayers, visits and notes of encouragement helped him through the recovery process. Even the media followed his story. He told a reporter that learning to walk again was one of the toughest things he ever did.
He also had to learn how to speak again. Marvin would eventually give his testimony to the church but returning to the pulpit was not in His
plan. Marvin retired on February 16, 1991. More than a few tears flowed on that day during a farewell reception, complete with the gift of a stately Grandfather clock to the Cudd family.
That clock would travel with them on their move South – to Fayetteville, North Carolina, where their daughter Mary Lee lived. Daughter Shannon would move there after college. In Fayetteville, Pastor Cudd and his beloved Faye found a new calling as volunteers at Cape Fear Valley Medical Center. Faye would gently hold the premature infants, offering hours of nurturing, while Marvin spent time with families whose loved ones had sustained head injuries. Marvin would share his own story – but mostly listen to theirs. He seemed to be able to establish eye contact more with just one eye than most people can with two, as his right eye socket was closed after the brain surgery. Crystal clear and mesmerizingly blue, his left eye could see hurt in a way that only those who have endured pain can understand. He would frequently say, "Don't give up. There's always hope."
And Marvin would pray. God, he would pray.
"His ministry was not over," says Mary Lee.
---
But that's just part of the story. To know the man, it's important to start at the beginning.
A Depression baby, Marvin Lee Cudd was born on November 3, 1932, in Tucapau (pronounced by the locals as Turkey Paw), nestled in the hilly region of South Carolina known as The Upstate. He was the son of Lois, "the most God-loving woman," and J.D., "who sold more insurance in Gaffney County than anyone," as Marvin described them.
Marvin speaks with so much love and pride for his parents, who instilled in him a fierce work ethic. He says when his mom started teaching Sunday School, the class tripled in size.
Lois was a dynamo. She bought a general store that contained a pharmacy, and Marvin would deliver prescriptions on his bicycle. The family was close, including a kid brother named Joe Dean, also known as Buddy. It was a Norman Rockwell kind of life.
At Gaffney High, Marvin Cudd was a leader. On the baseball team, he played first or second base – and was known as a great hitter. Marvin reminisces about how his best friend George and the entire team cheered him on and lifted him high after he scored a home run. It was a time when all things seemed infinitely possible.
The adventure was just beginning. After graduating from high school, Marvin was drafted into the U.S. Navy. He left by train on a cross-country ride, which would land him in San Diego. "I didn't know a soul," he recalls, in his genteel Southern accent. "But I knew I was as smart as the next one," he adds, with a sly grin.
At 18, Marvin Lee Cudd completed submarine training in Key West and went on to become a part of the elite Frogmen, the predecessor to the Navy SEALs. The sub, the USS Threadfin SS410, became his home base. He became known among his comrades for diving into deep waters to retrieve torpedo shells.
"That's back when submarines were called 'floating caskets,'" says Marvin, adding that he always considered himself a "go-getter," preferring work over play. "I never was a drinking man."
Cuba was just one of the places in which he found himself serving during his four-year stint in the Navy. He also learned a lot about electrical systems, which helped pave the path for his next stop in civilian life.
But something else was about to happen after his military service that would change the course of everything. Something personal. He would meet his future wife.
At a barn dance in Buena Vista, Virginia, Marvin spied a petite blonde named Joan Faye Slough across the room. "I knew as soon as I met her," says Marvin, his expression revealing a kind of mind time travel. He recalls that it was common for some or all her six sisters to "chaperone" their dates, per her mother's instructions. Getting "alone time" really wasn't an option.
Two months after meeting, they got engaged. On August 20, 1955, they married at St. John's United Methodist Church in Buena Vista.
The couple began their life together back at Clemson University in South Carolina, where Marvin earned his Bachelor's degree in Electrical Engineering in 1960. Two years later, they moved to Roanoke, Virginia.
The Cudds also started their family … one, two and then three girls, while Marvin climbed the corporate ladder to Director of Engineering for the furniture division of Singer Corporation. "My job was to help build furniture plants," says Marvin, adding that travel was routine, which took him away from his family, but also helped provide well for them, too.
In Roanoke, oldest daughter Mary Lee was the first to start attending a nearby Baptist church. "I've always been very sensitive spiritually," she says. The other family members followed her lead.
Marvin says his life took another turn when he was moved to study the Bible at a cabin in the woods. Just him, The Good Book, and two cans of pork and beans.
Marvin recalls that he had a vision of a stream flowing through the mountain, and the water suddenly turned dark and oily. He asked himself what the devil had done to this beautiful creation. Marvin knew it was up to him to change things, to make things right. He also knew it was only through God guiding him that change could be manifested. "God can make everything right," he says.
Marvin returned home and told his wife and daughters that he had been called by God to enter the ministry. They were a bit taken aback, to say the least, but supportive.
Because Marvin had been wise about joining an investors' club and was among the first to buy Toyota stock, he was able to use the funds to take care of his family and pay for his next phase of education. In 1974, he entered Southeastern Baptist Theological Seminary in Wake Forest, North Carolina, where he earned his Master of Divinity degree.
After graduation, Marvin pastored East End Baptist Church in Roanoke before the offer came in 1985 from the church in Ohio, where he ministered until his car accident.
Marvin and Faye moved to Fayetteville, North Carolina, where daughters Mary Lee and Shannon still reside. Daughter Linda remains close, but lives in Ohio.
In Fayetteville, Joan Faye Cudd passed away of lung issues on August 30, 2014, 10 days after she and Marvin celebrated their 59th anniversary and just a week after her 78th birthday. Faye's family was at her bedside.
Marvin is comforted by photos of him and Faye, during a special 50th anniversary celebration with family and fun memories of them enjoying a trip to Florida.
With a penchant for eating two Oreos at a time, Marvin smiles when thinking about all the good times with Faye and their daughters.
"Life can change in a split second," Marvin says. "The Lord was my Watchman, no doubt. I'm doing great despite myself."